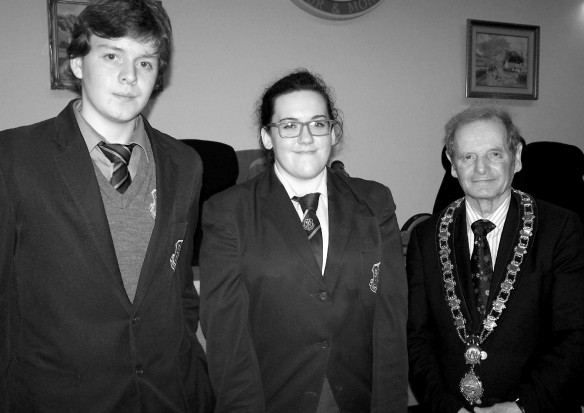 Pictured are students Oisín Groom (left), Anastasia Ní Riabhaigh (centre) and the Lord Mayor of Newry and Mourne District Council, Councillor John McArdle (right).
Anastasia Ní Riabhaigh writes about a recent opportunity she had to discuss issues with local councillors, and how frustrating it can be to get a direct answer.

On Tuesday 16 October my classmate, Oisin Groom, and I were provided with the opportunity to question local politicians, including the Lord Mayor of Newry, about issues we felt were relevant to our daily lives as citizens of the Newry and Mourne area. We were escorted by Mr McCaffrey, of the History Department, to the Newry and Mourne District Council Chambers where students from several other local schools were also present.
Before the meeting began several council members came around the room to shake the hands of the students, including myself, several welcomed us with the clichéd and rather outdated  'Children are the future' themed speech, others didn't bother with such pleasantries and instead jokingly requested that we ask 'No awkward questions,' a request which I decided to ignore as Oisin and I had barely no limitations on the topics we could interrogate the council members on, so I planned to take full advantage of this fact.
Oisin kicked off the meeting with a relevant inquest into the prominent crime that is present in Newry today, a question which the councillors all responded positively to and even allowed Oisin to state his own opinion on the issue. I asked the councillors' opinions on the cultural expression, or there lack of, present in Newry and the funding the council did not seem to provide for such endeavours. They seemed to completely misinterpret or strategically distort the question into something a long the lines of 'Why is there no fun things for kids like us to do?' which was frustrating to say the least, but was to be expected.
Many topics were covered in the meeting, despite the majority of unnecessarily elongated answers of certain council members, and I found the experience most insightful into the inner-workings of Northern Ireland Politics as the small room of council members were a fairly valid microcosm of the debates that occur in Stormont.
After being present at such an occasion my interest in the political running of the country and the methods used in order to ensure the best possible opportunities for Northern Ireland citizens were further increased. I am most definitely considering a career in politics in the future as I feel that there is a large minority of the population whose opinions and views go unheard.