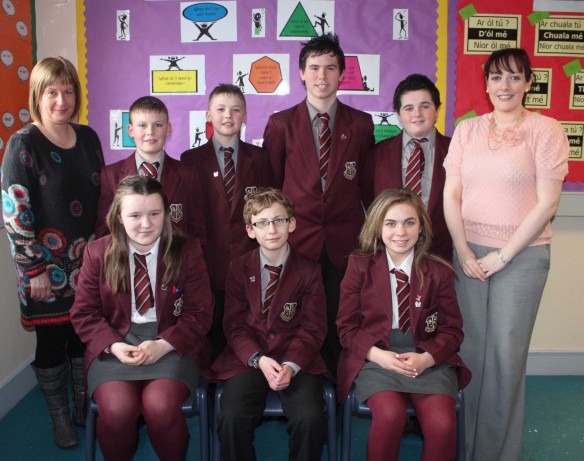 Pictured Above – Back row: Ms Anne McElroy, Kevin Nogher, Darren Mackin, Keenan Shields, Miceal McCartney, Miss McCoy
Front Row: Noelle Cunnane, Nassim Zerai, Jade McCaffrey
Students in 9/53 were recently presented with their 'cupla focal' award after completing a speaking test in Irish.  This award recognises the ability of these students to speak a 'cupla focal' or a couple of words in Irish.  This is a fantastic achievement for the students of 9/53 who have only started studying Irish in September.
During the month of March, as part of the celebrations for Seachtain na Gaeilge, students in Key Stage 3 are giving the opportunity to try and achieve the 'cupla focal' award or the 'fáinne airgid' (silver fáinne).  The successful students will be presented with their awards at special assemblies during Seachtain na Gaeilge.
9/53′s Irish teacher and Head of Irish, Miss McCoy praised the students on their achievement. "The students of 9/53 have worked very hard to achieve this level of Irish in a short space of time.  They are now able to answer questions about themselves, their school and their family quite confidently in Irish.  Ms McElroy, a classroom assistant with 9/53, has provided great support to the students in their efforts to achieve this award.  Ms McElroy practised the oral questions with the students and encouraged the students, who were lacking confidence, to attempt the exam."